Last week I had the great pleasure to chat with one of the leading lights of the new wave of British cheese makers, Tom Calver of Westcombe Dairy.

Tom is a second generation artisan cheesemaker. He is very interested in the science of cheesemaking and the biodiversity of the terroir. He has created underground maturation caves on his farm, where the milk is produced from his own herd of cattle. Tom's enthusiasm for the land inspired me to want to go to Somerset and see all their work with my own eyes!
Behind a great cheese there is passion, honesty and constant improvements made in the pursuit of quality. All of these came together when I spoke to Tom. His cheeses speak for themselves, but after our conversation my spirits were lifted by Tom's views and values, and I felt that I wanted to support his company even more.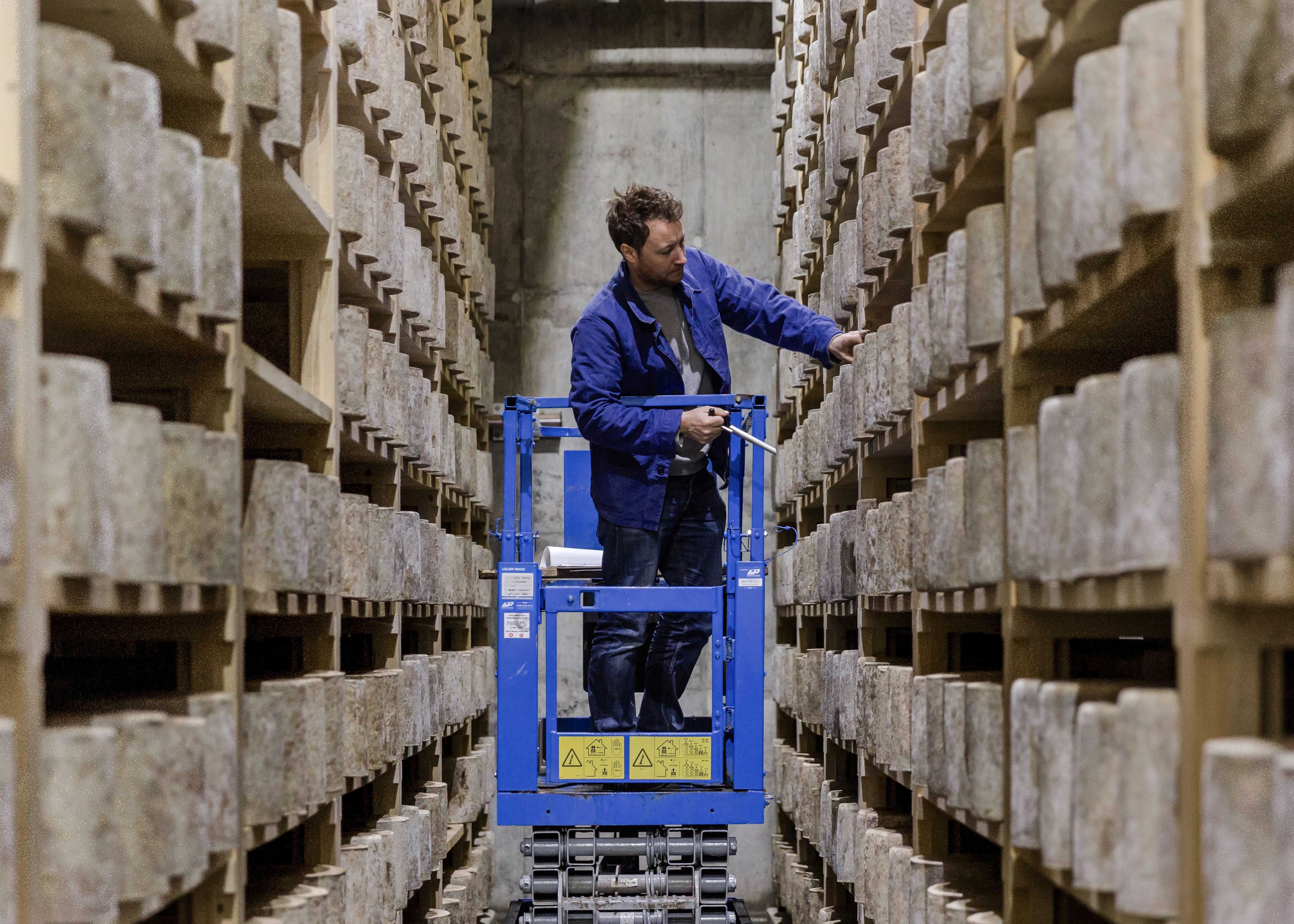 Westcombe Cheese has been in existence since around 1879. Tom's father, Richard Calver, joined as a partner in the business 56 years ago, so Tom grew up on the farm. At that stage they were making quite large block cheddar. In the 1990s, they decided to go back to the traditional Somerset Cheddar - clothbound cheeses with unpasteurised milk.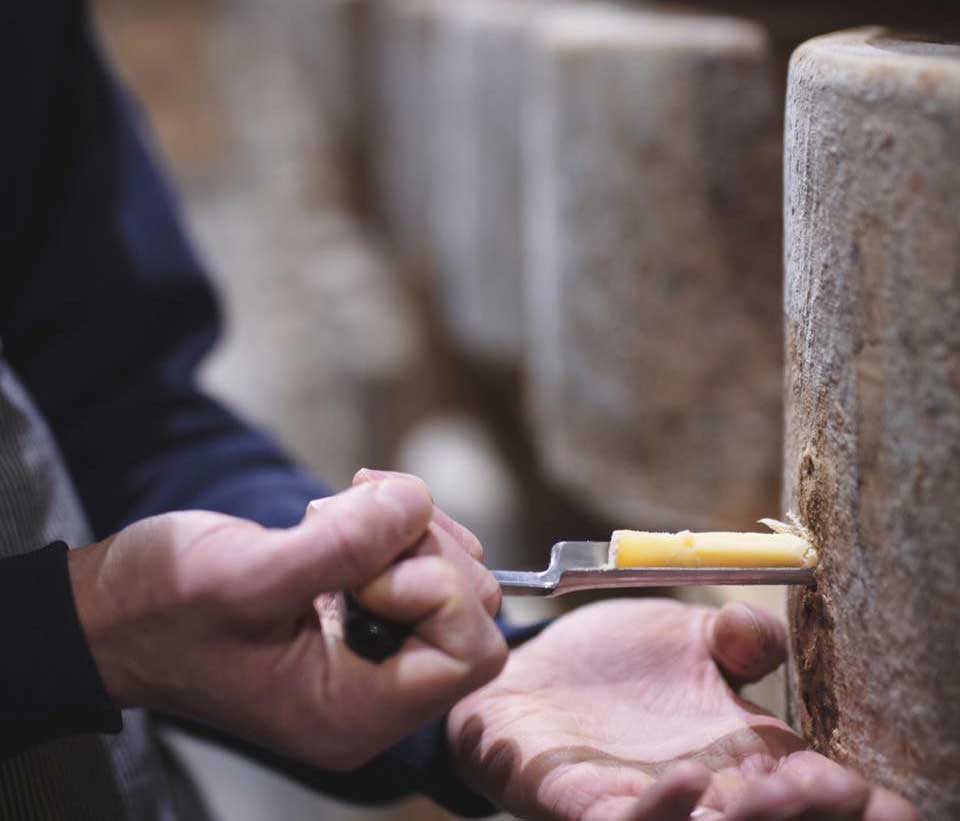 Tom says that when he was at school he vowed never to go into the business because he saw his dad working too hard, so he decided to go and work as a cook in London. But after 4 years, he realised that his heart was in Somerset, in the countryside, and he re-joined the business to give his dad a hand as he was struggling to sell the cheese to restaurants and delis. Tom: "I found myself working really hard because the cheese wasn't very good, and the sales weren't good, so what I thought was that if we could make the cheese taste better, and improve the quality, then the cheese would sell itself."
Intrigued by the connection of the animals and the pasture, and how it had a distinct effect on the flavour and how it was created, Tom decided to explore and get an understanding of how to actually make cheese, by experiencing other cheeses. So he went and worked at Neal's Yard Dairy, and gained an understanding of the British Cheese industry overall. He saw what could be done, and then tried to put some science behind the wonders of cheesemaking, without being constrained by traditional methods. Tom was happy with his time experimenting and commented "Learning how to make other cheeses really helped us to develop the more traditional cheddar, so you can understand the different levers you can pull in the make to steer the recipe towards better quality. There's been this evolution over time which is looking at the micro-flora within the milk itself, seeing if we've got good healthy milk and what that looks like, and trying to understand it,  because the issue we've had in the past is that we've been looking at these different metrics like fat protein and lack of bacteria in the milk, 'cleanliness', but actually what we started thinking about was trying to build a body of good positive bacteria which will compete against pathogens rather than annihilating every single bacteria which exists in the milk itself."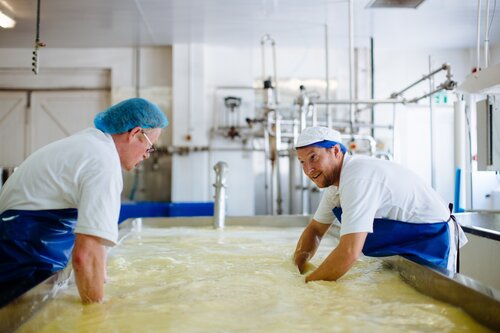 Tom and his team had this mission of "almost inoculating" the cows through the environment of the farm, "to have good positive flavoursome bacteria from the environment that the cows are actually in." They understood that the start of the whole process is the soil "so it seems crazy now that we didn't start with that but over the past 50 years or so as farmers I suppose we haven't given the soil as much thought. Our business model 50 years ago was very different, we were looking to produce a volume of milk, we had a milk contract to supply, so now we're producing raw milk cheese and going about it in reverse order, we're seeing more biodiversity, and a healthier soil can really influence a healthier microclimate around the farm, which in turn has a massive effect on the microbiome of the milk, which in turn will have an effect on the flavour of the cheese. You'll get a lot more complexity and a lot more realness."
One of the things with Westcombe that Tom is really excited about is that each cheese will be really distinctive and different. "I think variation is such a positive thing, we're consuming food, which is subject to this massive, impossible equation of environment and weather conditions, and the more we try and control it and restrain the way that we produce food I think the less nutrient value we'll actually get out of the food itself. So if we can work with nature and biodiversity then we can improve the nutritional benefit of the food that we're growing, and that goes some way to actually help create more of a sustainable climate."
Recently, in the cheese world the word terroir (usually associated with wine) has been introduced to illustrate the link between the soil of a specific place, its milk and the cheese. "We've been looking at what influence we have on the terroir around the cheese, and actually it (used to be) little to nothing, because a lot of dairy farmers are feeding Italian ryegrass, maize, soya and producing this blend which is very similar to your neighbour, and the other neighbour, where actually the essence for me of terroir is for the animals to be grazing on something that is totally unique to the mineral base and actually, having deep rooting plants that will go below the subsoil but also having short rooting plants as well, so you have this hugely diverse plant base. And we've been planting these herbal layers, 19 different species to start off with, but also by not spraying, not using herbicides or pesticides, we're seeing that the natural seed bank that had been sat there in the soil, dormant, has started to come alive as well, so only now we're starting to see our own terroir being released, which is very exciting."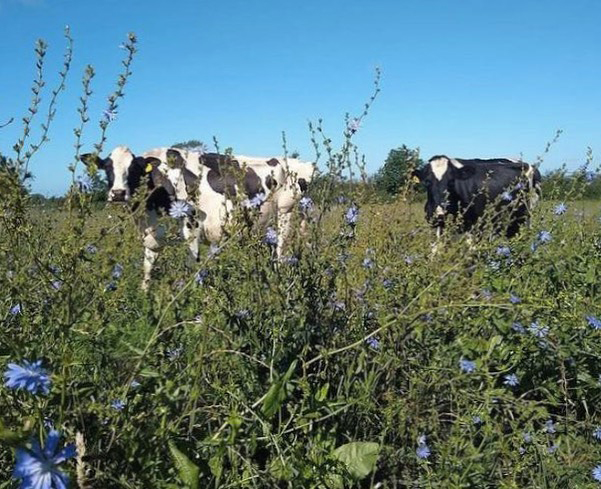 Tom Calver is participating in "The Westcombe Project" run by Sam Wilkin, from the Cellarman Podcast. What Sam and Tom are going to do is to track the progress of the farm "We're in the very early stages of this regenerative farming approach. We haven't been highly intensive, but we feel with all the noise about vegan, vegetarian, and climate change, we're trying to ask the question: if we look at a farming system really holistically, and if we look at biodiversity constantly, how can we farm, dairy farm, in a better way?"
Westcombe's focus is on quality: "If we can get the flavour and the quality better, then that's really our biggest goal, and the ironic thing is that if you have that focus on quality it tends to mean that everything else starts to slot into place in terms of holistic, decent, good farming practices. You get better moral standards, you get better welfare, you get better diversity, you get all these added benefits. Looking at farming as a system with zero to very little waste element, which is to do with value and what value metric you put on certain items."
Tom has many influential people in his life and is very grateful for all his connections... "One of my mentor's/food heroes is Jamie Oliver, he's insane, I feel really lucky to call him a friend, and also Randolph Hodgson has had a huge impact. Jason Hinds, he's had a massive impact, Carlo Petrini from the International Slow Food Movement, he's a very interesting character."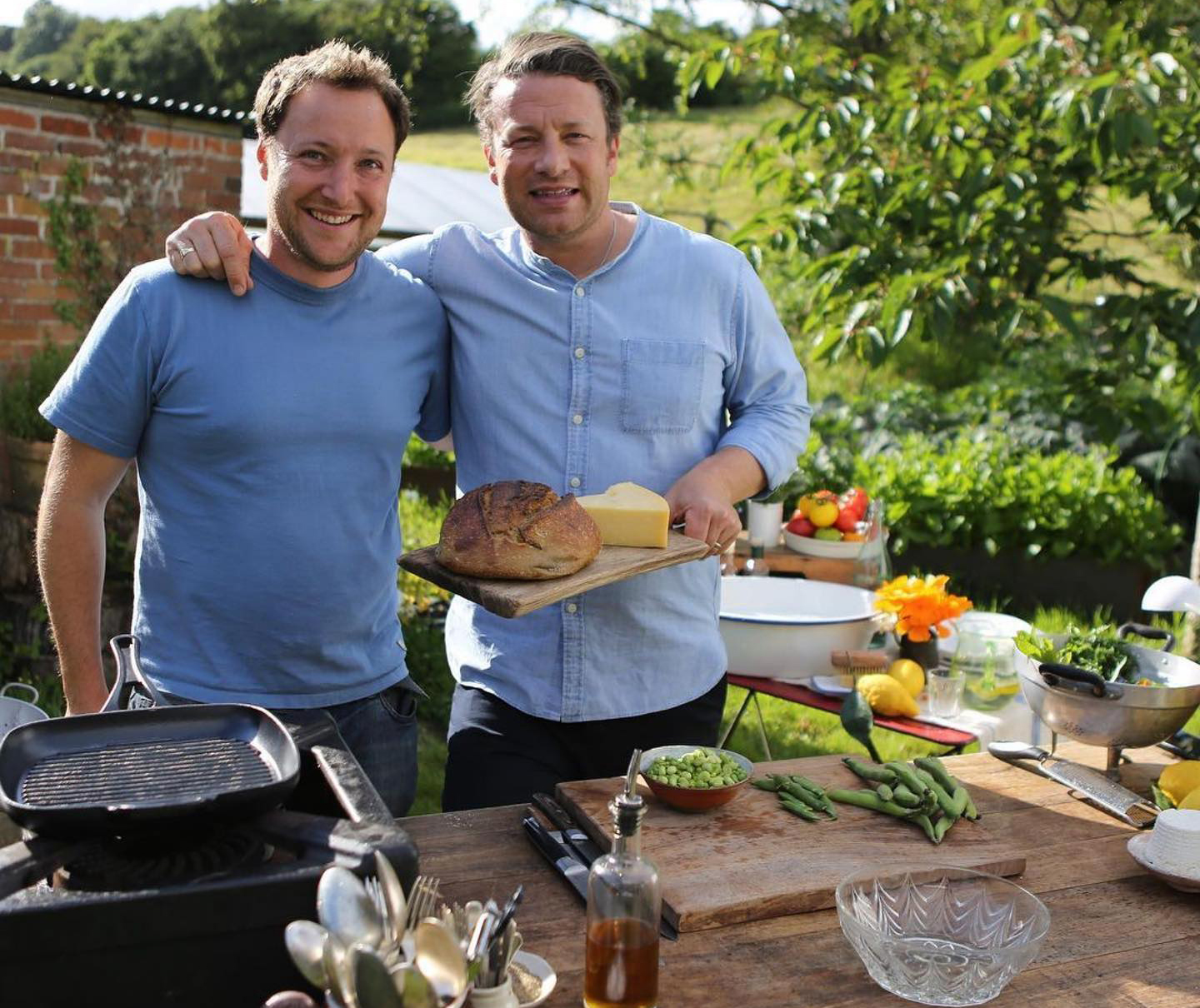 Westcombe have been facing two pandemics in the last couple of years, Covid-19 and also the TB pandemic, which were a real challenge, but the future ahead looks exciting for Tom and the team, he comments "I'd like to empower our guys here on the farm, and also we just want to strive to produce the best cheese in the world. What we're trying to do is be respectful and but also true to the flavour of our farm. And that's it, if we can do that and also not screw it up, that will be a hell of an achievement!"
What really came across in our conversation was Tom's passion and his close bond with the cheese world: "We've had recognition from some incredible people that we admire and respect, and the most memorable time with the whole cheese community that we've got. We're so lucky to have this industry where our fiercest competitors are our best friends as well. To be able to have this camaraderie, and that we're all trying to improve each other is a great experience."
Behind incredible cheeses there are incredible cheesemakers, and Tom is one of them!