Kaltbach cheeses are the result of exceptional care, patience and attention to detail. Discover what makes Kaltbach cheeses so special...
1. Kaltbach cheeses are aged in a 22-million year old sandstone cave in Switzerland's Alpine valley. This sandstone cave offers the perfect conditions for cheese refining, because of the natural moisture that the quartz stores in the rock.
2. The Kaltbach Cheese Cave is unlike any other place in the world. 15 meters below ground, its horizontal layering allows water to slowly make its way down the walls rather than dripping from the ceiling like other caves. Kaltbach means "cold river", referring to the river that runs through the cave; this helps maintain a humidity level of about 96% and a temperature of about 12.5 degrees throughout the year. 

3.Only the best cheeses can turn into Kaltbach masterpieces and the selection requires a lot of experience and instinct. The cheeses mature for several months in cheese rooms, then the Kaltbach Cave Masters pick and refine the finest wheels suitable for cave ageing. Their knowledge and skill has been passed down through the generations.
4. The wheels of cheese are regularly brushed with cave wash, ensuring nuances of flavour and the distinctive Kaltbach tanginess. The sandstone shares a relationship with the cheese, releasing and absorbing moisture as needed, and the climate in the cave helps to give the cheese its distinct aroma, dark rind color, and a smooth, creamy texture.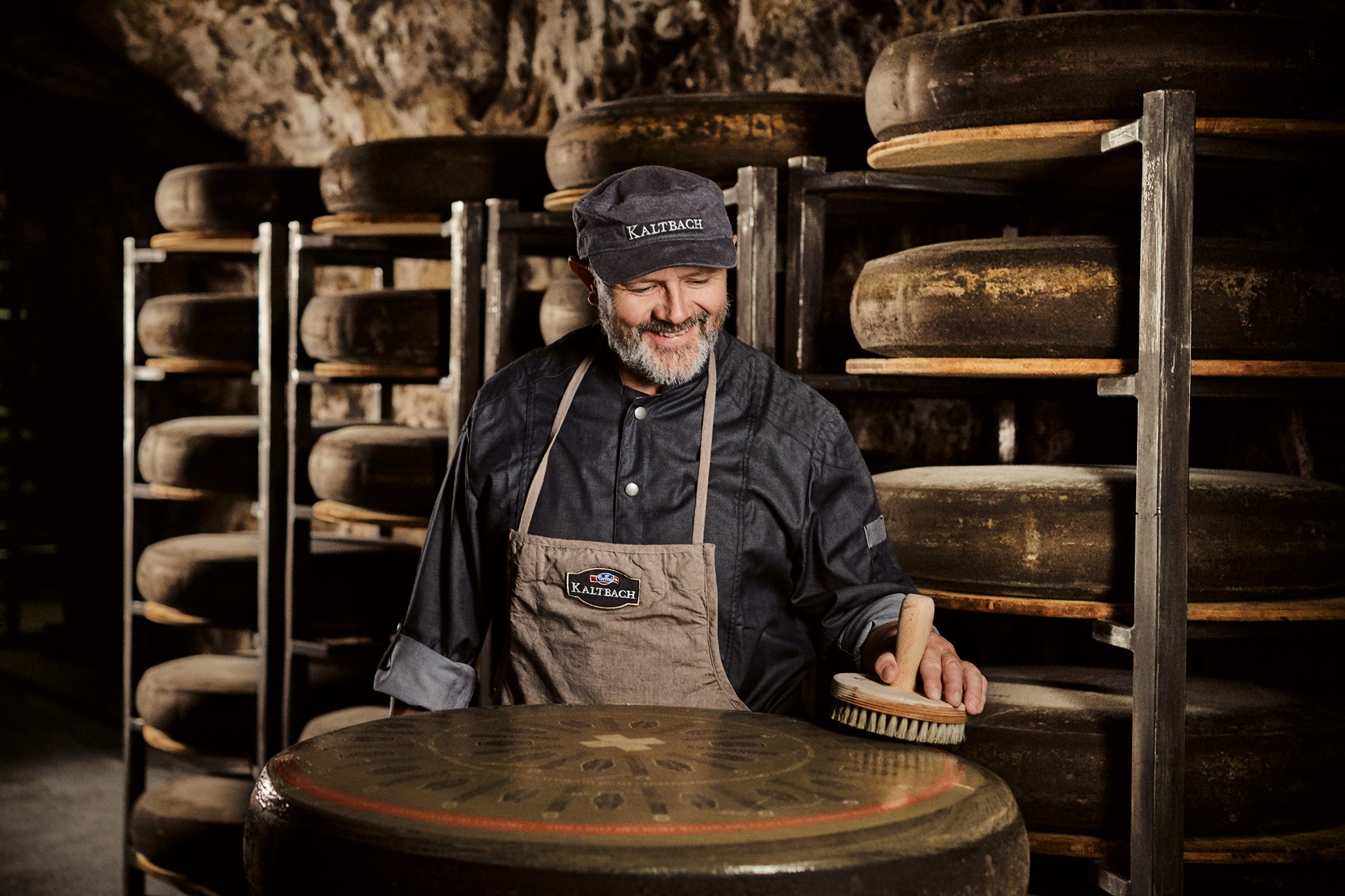 5. Attention to detail is critical in the refining process – the perfect moment to turn over the wheels is crucial for optimum ripening. Kaltbach Cave Masters monitor quality at all stages. This natural cave environment and the skill of the Cave Masters, guarantees that this unique, rich taste can only be found in Kaltbach cheeses.
 
THE 3 CHEESES TO STOCK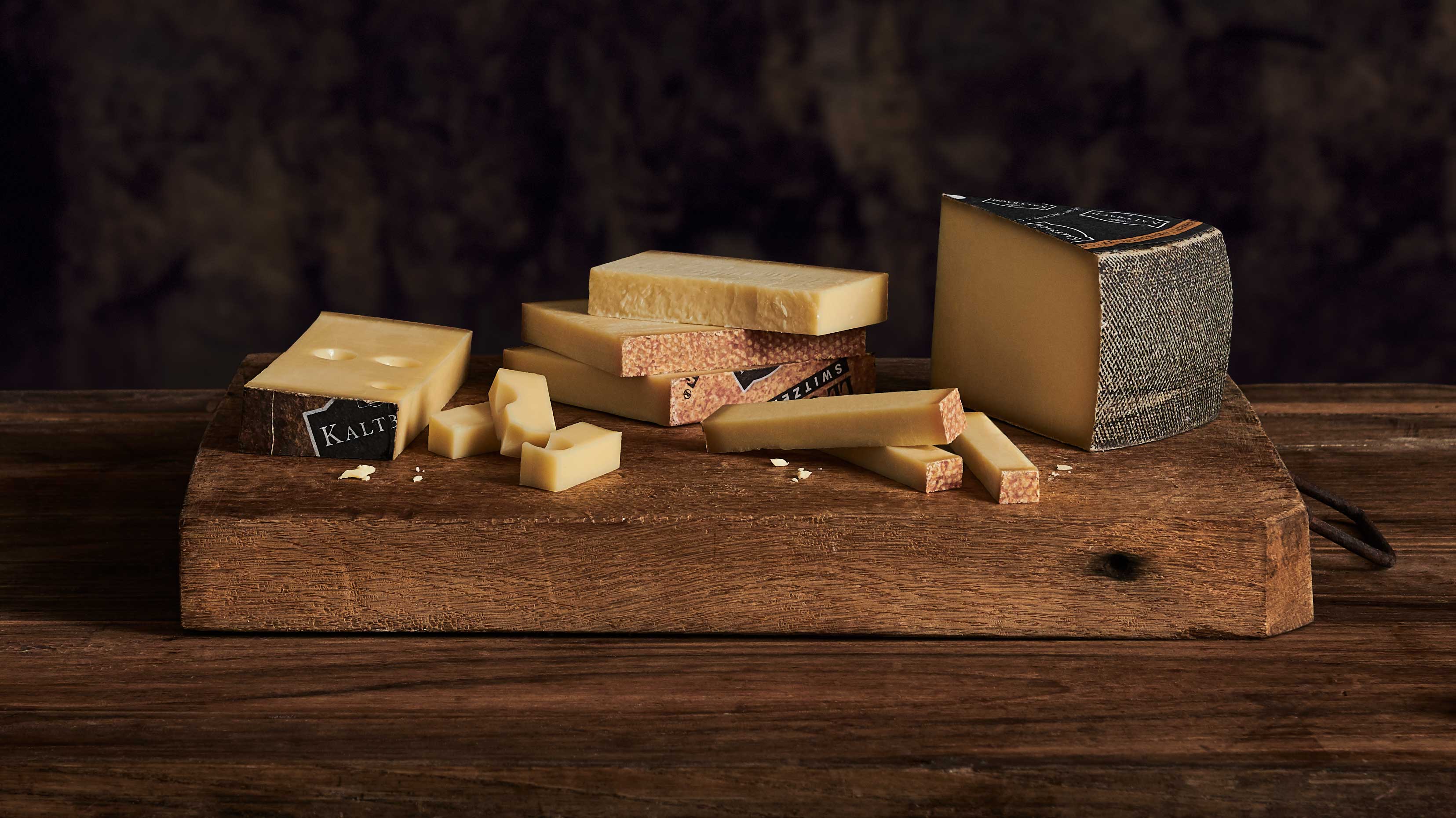 Kaltbach Cave Aged Gruyère (AOP)
When you take a recipe that is over 900 years old, and combine it with a 22-million year old cave you get Kaltbach Cave Aged Le Gruyère AOP. At six months in age, Swiss cheesemakers and affineurs carefully handpick a select number of wheels to continue their refinement in the Kaltbach Cave. Extended aging makes for a more complex cheese as compared to a traditional Le Gruyère AOP.  This Gruyère has a floral nuttiness, a smooth yet dense texture with a slight flake and a pronounced crystal crunch.
It pairs well with: Cabernet Franc Red, white Burgundy, Grenache, Syrah or Single-malt Scotch.
Kaltbach Cave Aged Emmental (AOP)
It takes 12 months for an Emmentaler AOP to become a Kaltbach Emmentaler AOP. After  three months with the cheesemaker, the best wheels are selected and brought to the cave for a total of nine months. The flavour is nutty with slight acidity and a hint of herbs with a firm, yet supple texture. 
The nutty-tangy aroma develops as the cheese ages in the damp climate of their sandstone Cave and through the expertise of the Cavemasters. During this period the natural black-brown rind and the inclusions of white salt crystals and water droplets form. 
It pairs well with: Oaked Chardonnay, Cabernet Sauvignon, Gin and tonic.
Creamy is aged for approximately 4 - 5 months which is relatively young compared to other varieties aging in the Kaltbach Cave. Enhanced with an extra portion of cream, it offers a marvelous melt-in-the- mouth texture, making it popular among Cheese fans. It is a very approachable semi-soft cheese with a melt-in-your-mouth custard-like consistency and a delightful caramelized butter flavour that lingers on the palate.
It pairs well with: Berliner Weisse beer, a bright Chardonnay, Chenin Blanc or Riesling, iced green tea.